After a beautiful dedication ceremony at morning worship, 7 Island organists showed off the new Russell Pipe Organ.  Stephen and Carole Russell were in the standing room only audience to hear the fabulous sounds.  Phil Dietterich was the morning speaker and the expert member of the Organ Committee.  Chilmark Church is indebted to him for much:  For inspiring us with his words and music, for organizing the wonderful concert, and for composing a beautiful piece of music, "Chilmark Autumn" which he introduced at the afternoon concert.
CHILMARK COMMUNITY CHURCH
PRESENTS
SEVEN ISLAND ORGANISTS IN CONCERT
Sunday, September 30, 2012 at 4 pm
MUSIC TO CELEBRATE THE INSTALLATION
OF THE NEW STEPHEN J. RUSSELL ORGAN-OPUS 56
PROGRAM
Pipe Organ Primer for Opus 56 Hal Hopson, adapt.
Philip Dietterich
A Ground in G Henry Purcell
Carol Loud
Fantasia in G Minor J.S. Bach
David Rhoderick
Noel X (Grand Jeu et Duo) Louis Claude Daquin
Wesley Brown
Fugue in C Major (from Duet for Organ)    Samuel Wesley
Wesley Brown & Peter Boak
When In Our Music God Is Glorified Hymn No. 68
Three Characteristic Pieces Jean Langlais
1. Pastoral Prelude  2. Interlude  3 Bells
Nancy Rogers
Chilmark Autumn Philip Dietterich
Philip Dietterich
Fugue in G Minor (Little) J.S. Bach
Peter Boak
The Dashing Cavaliers Edmund Braham and E.T.Faull
Garrett Brow
No way to show how wonderful it sounded but here are some photos:
ORGAN BUILDERS AND THE ORGANISTS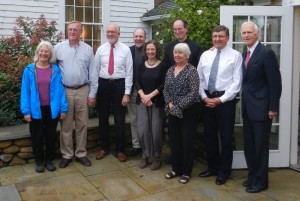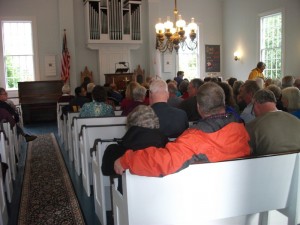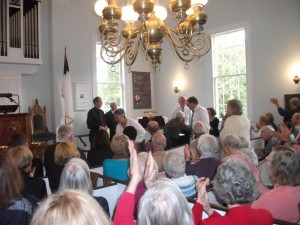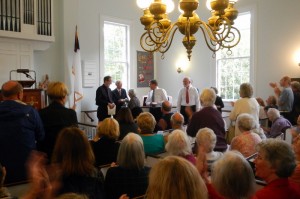 Carole and Stephen Russell, Wesley, Shelly  and Garrett Brown and Peter Boak all graduated from Westminster Choir School.