On November 30, the church celebrated it's 100 years' location at 9 Menemsha Crossroad.   Harriet Otteson gave a talk at a dinner commemorating the year.  She noted that she found that in 1910, when the church was rededicated (on December 4)  at its new location, it was the 100th year of Methodism in Chilmark.  The first meetings in 1810 were held in people's homes and there were 12 members.  In 1910 there were 74 members and about 50 attended worship regularly.  Prior to the church's relocation from Middle Road, two services were held on Sundays, one at the Middle Road church and one in the Menemsha School.
Harriet also explained that the relocation of the building coincided with the development of the Harbor at Menemsha and the increase in the fishing industry there.  The site of the parsonage was given  by Avis Mayhew, Alice Adam and Benjamin Tilton from West Tisbury.  E. Elliot Mayhew provided the site for the church .  He owned a store near the location of the present Tavern and lived across the street in the "Kurth" house that was torn down to accomodate the new school.
The Ladies Aid Society raised $1,594  for the moving of the church and the parsonage.
Frank Tilton, Ernest Flanders,   and   Albert Reed  served on the church moving committee.  Tilton's grandaughter, Stephanie Rossi, said her grandfather lived in the   "Capt. Leonard West/Frank Tilton/Greenbaum"     house in Menemsha.   When scraping the church the painters uncovered the scar where the church was "flaked" for moving.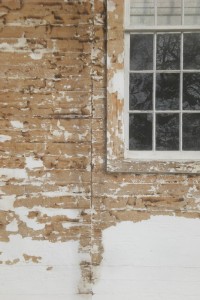 The location on Middle Road from which the building was moved was most likely parcel   3 on map  12  of the town's assessors' maps. (see below) Just to the north of this small lot, in the Silva's field, were the "Shed Lots", small parcels  that individuals owned on which they build carriage sheds for sheltering horse and carriage during church services.  Those real estate interests were cleared prior to the Martha's Vineyard Landbank's purchase of the field.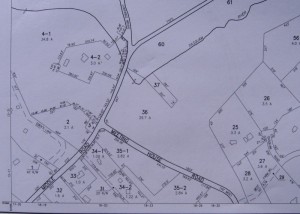 The parsonage was moved from Map 12 lot 34, the Nitchie lot, or Map 12 lot 33, Robert Fokos. (We need to check in the Registry of Deeds to see which of these lots was the original site of the first church building and which was the parsonage site.)
The town's Master Plan Historic Resources section has good on the site of the old town center on Middle Road.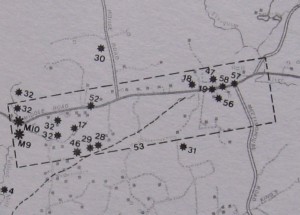 The Master Plan identifies # 56 as Methodist Parsonage sites; #57 are Carriage house sites for Methodist Church; # 58 Methodist Church site of  a building from 1829 and replaced in 1843. (note, the earliest church was across the street) . It describes this "Original Chilmark Town Center (in rectangle) on p. 134 of the Master Plan:  " In this vicinity were: the Town Hall, a blacksmith shop (Hillman), a post office 1865-83, the third and fourth Congregational meeting houses and parsonages (1787,1842), two consecutive Methodist churches 1829 and 1843, two consecutive Methodist parsonages, two consecutive general stores, and a town "workhouse" (poorhouse) .  Lacking a deep harbor, orientation was toward agriculture and sheep more than fishing or marine interests.  Meeting houses were centrally located."