The History of the Chilmark Community Church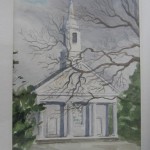 Methodism was formally introduced to Chilmark through a circuit preacher, *John Sanders, a fugitive slave who found refuge on the island, in about 1787. By 1810 a "class" of twenty members of the Methodist Episcopal Society met in homes and later in school houses.

In 1827, land was offered by John & Mary Hancock on Middle Road,  near Meetinghouse  Road in Chilmark, then the center of town. Edgartown sold a small church to Chilmark, which was moved to the donated site just west of Meetinghouse Road on Middle Road. The Reverend John "Reformation" Adams, a Methodist minister, was pastor. This building was moved to the north side of Middle Road.  In 1843 it was replaced  larger church which was dedicated on January 25, 1843.   This, our present church was moved to the Menemsha Crossroad in 1910. You can see the seam in the siding on the front where it was "flaked" or cut into sections to be moved.  In 1928 the Oddfellows of Oak Bluffs gave a bell to the Chilmark Ladies Aid. The bell was hung in the new steeple in 1931.

In order to appeal to all people, the name was changed to the Chilmark Community Church in 1982.
In order to appeal to all people, the name was changed to the Chilmark Community Church in 1982. In 2002 a Parish/ Education building was built behind the historic church providing Sunday School and meeting rooms, a kitchen, bathrooms and a Pastor's Study.
For many decades Chilmark and Edgartown shared a "circuit" preacher.  In 2006 Chilmark shared two pastors with the other three Methodist churches on the island as part of a "Cooperative Ministry".  On January 1, 2009,  Chilmark separated from the Cooperative. The church will continue, as it has for over 150 years, serving the community supported by members and friends, Flea Market . All are welcome here!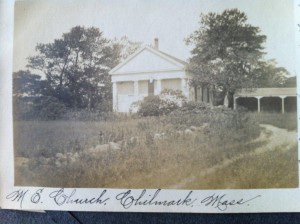 Kim Manter Cottrill has this photo of the church on Middle Road.
*See article below, scanned from a Souvenir History of the New published by  Rev. Rennetts C. Miller in 1897.