Carolyn Stoeber is a member of our congregation who often travels to Haiti for her work for a group called Peace Quilts. When we asked what we could do for the people she knows there, she suggested that the greatest need was for education. At our last church meeting, we decided to do what we could to help that community.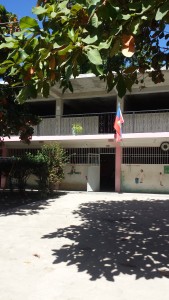 Above image is of the Lilavois School where Sister Cadet is principal.
Our focus is an afternoon school program for people who must work in the morning during normal school hours, those who are not able to afford to pay tuition to attend regular school, and those who have never had the opportunity to attend school in the past. Children and adults are welcome to the school and the age range for this school is from around 8 yr. through adult. School is not free in Haiti unless you can find sponsorship for your education.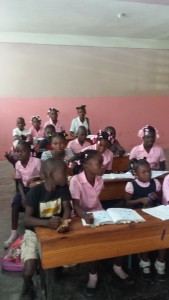 Chilmark Community Church has chosen  to support the afternoon school  by sponsoring  a teacher. Each of these teachers is teaching a classroom of people who desperately want to learn, but who previously have not had the means or opportunity to go to school. Currently, there are two classes in the afternoon school. By providing the teacher's salary, we will be sponsoring a classroom of people. It has the largest impact per dollar. The cost is: $1,115.50 per semester, or $2,231 per year. The success of this program is dependent on funding the salaries of the teachers since the point of the school is to provide opportunities to those who would otherwise not able to afford to go to school.  Any contribution to this effort is most welcome!