Saturday, February 11:  If you got near to the Fellowship Hall you'd hear rock music playing and smell sausage or bacon and paint fumes in the air.  Brian Kennedy and his crew of eight painters were in action.  After a community breakfast, the Community Correction crew will be finishing the main room today and have the blue tape down and the switch plates back on.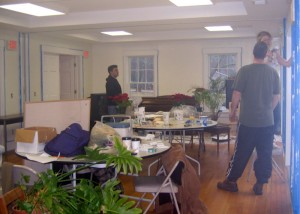 ( The foggy exposure is not smoke but a cold camera lens.  )
When thanked for this energy and work, Brian replied that they all appreciated our prayers.  Lets keep Brian, his wife Susan, and all those he works with in prayer.