GHANA MISSION STATEMENT
We travel to Ghana as ambassadors of Christ's love and join with our mission partner the Evangelical Presbyterian Church, Ghana to share the gospel of Jesus Christ with people of their churches, schools, and projects. Ours is a ministry of presence as we ask God and the leaders of the church to use us in whatever way they see fit to enrich the ministry of Christ's church in the Volta Region. We work through its congregations, projects, schools, development programs, and medical facilities.
We affirm together our partnership in mission and ministry as we bring greetings from the people of The Federated Church, Edgartown, MA and of Christian churches in the United States. We affirm, "Unless God is in the building the laborers build in vain." Psalm 127:1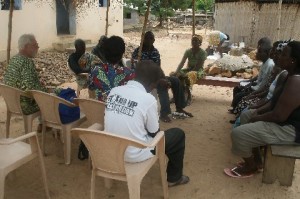 David Christensen meeting with village elders, the chief, church leaders to establish a water committee in the village of Takla Gbogame to receive water and sanitation helpin partnership with Rotary International and USAID.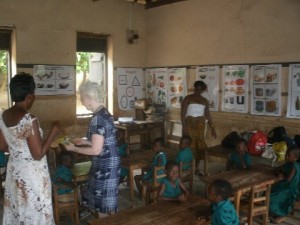 Carol Christensen teaching in Primary School in Ho, Ghana West Africa
GHANA UPDATE 2011
Dear Friends- Carol and I want to share with you what is happening in our continuing "Mission to Ghana" . Because of a variety of circumstances, family and otherwise, we were not able to make our annual visit.  By inter-net, bank transfers and deliveries made by brother, Jim Christensen, we were able to insure that all the funds which were donated through us went to the appropriate recipients.  Thank you for your continuing support and prayers.
1.

Through a partnership with the local communities, the church, Rotary International Water Projects, and USAID, in 2011, 114 Water and Sanitation Projects were completed for over 250,000 people, including Takla Gbogame.  This culminated a three year process and cost $5 million, and involved hours of local communal labor.

2.

Delivered to the Regional Leprosarium: 100 kilos of rice, 2 gallons of cooking oil, and 2 boxes of soap, insuring that those "cured lepers" will have food until the end of the year, while receiving on-going care and treatment.

3.

University Education for Elementary School teacher – tuition for 2011-12

4.

School Supplies Ho Dome Primary School

5.

EP Church Scholarship Funds through the National Church Headquarters

6.

Supplies for Mawuli Junior High  ( 140 tee squares & Magna-tiles for3 dimensional templates)

7.

Gifts and Funds to Klefe Creche (Nursery School)

8.

Supplies for EP Takla Gbogame Primary School

9.

Funds distributed to Womens' Activity Center (Training for women to be self-sufficient).
10. Purchased goods from carvers, jewelry makers, seamstresses, bead makers, micro-businesses, and senior centers.
11. School Fees for  Ho Heve Primary School ( Miami Everglades Can recycles)
12. School Uniforms for students at EP Schools
13. Funds to Church Headquarters for them to use at their discretion
14. Supplies for Takla Junior High  (60 mechanical instrument kits, 60 tee squares)
15. Funds distributed to rural clinics
16. Pharmaceuticals distributed to Volta Regional Hospital through "Americares"
17. Arranged for Solar Powered Talking Bibles to be delivered to Leprosarium for blind patients and to EP Church for members who are poor and blind
In His Service – David and Carol Christensen
"Ministries in Ghana"